salon and spa cabinets heated towel rail electric towel warmer cold hot towel warmer
Features
1. Quality aluminum innerpot,good heat transfer performance and heating evenly.
2. Suitable for wet towel heating and warm keeping.
3. Keep warm and wet within 24 hours.
4. The appearance would be solid and reliable ,whole product with good sealing.
5. Loading capacity with 20-50towels


OPERATION:
• A. Fold clean wet towels neatly to place them on the screen shelf in the towel cabinet and close the cabinet door.

• B. Press the power switch to the lock position. The working indicator will be on to show that the towel cabinet has started heating.

• C. When the temperature in the towel cabinet reaches the set temperature; the temperature in the cabinet will be kept automatically. When the temperature in the cabinet gets cooler the heating will be done automatically.

• D. If the towel is needed to be used, turn off the towel warmer first. Be careful when opening the door as hot steam can cause burns and scalding. Remove towels with a tweezers.

Application
Towel warmer have a wild using range in beauty field and hotel field. Such as....
- Beauty salons - Sauna Rooms - Massage center - Bar - Restuarant - Hotel
- Hospitals - Kindergarten - Anyother place with towels needed


Funtion:

(with zone)ultraviolet radiation antisepsis towel,keep wet and the normal temperture.

Temperature control:When temp lower 70 degree,it works normally,when temp over 80 degree ,it stop and keeping temperature.

From start to work about 20min,then to be normal temperature.

It has adiabatic material,so it can works normally.

Heat-resistant perticular,durable engineering material.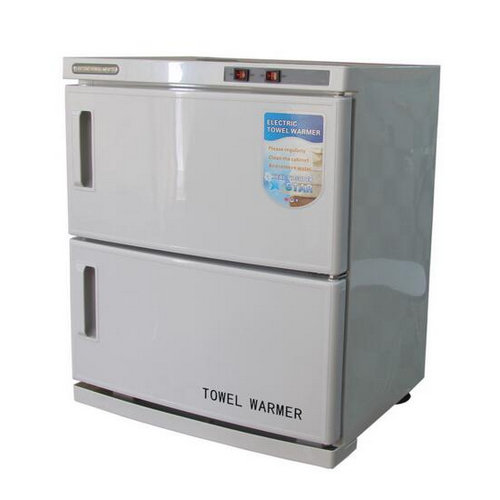 salon and spa cabinets heated towel rail electric towel warmer cold hot towel warmer